seat tube-ø 31.8 mm
69762
RRP in D

99,00 €
seat tube-ø 34.9 mm
69862
RRP in D

99,00 €
For seat tube-ø 31.8 mm or 34.9 mm
SON Coaxial Cable 190 cm (fixed inside the housing, bare ends, connectors separately enclosed)
Conforms with German legal regulations / ISO 6742
Weight (w/o cable): 50 g
Wheel for Brompton 20 Spokes black
 minimalist design with only 20 Spokes
 extremely lightweight wheel with semi radial spoke pattern, yet very durable
 hub dynamo SON XS for Brompton (polished, silver anodized or black anodized)
SON XS polished
43180
SON XS silver anodized
43182
SON XS black anodized
43181
black rim
RRP in D

329,00 €
SON 28 15 110 disc center lock
for 15 mm thru axle, width 110 mm (Boost Standard)
wide flange spacing (symmetrical)
for rotors with with Shimano center-lock-mounting
for a lot of light even at low riding speed
also for various charging tasks using a charger
28 hole
442810
32 hole
443210
RRP in D

339,00 €
Weight: 470 g
Flange spacing: 56 mm
6 Volt / 3 Watts conforming to German legal regulations
SON Easy Wheels 66
More comfort for Brompton folding bikes:
Our SON Easy Wheels provide perfect rolling characteristics. They ensure your Brompton stays maneuverable when folded. The wheels are CNC machined from aluminum and fitted with high quality industrial bearings and a durable tread.
For Brompton folding bike (P and T models)
Set of 2 wheels
Ø 66 mm
black anodized
74005
RRP in D

59,00 €
Bracket delux 3D
Headlight bracket for handlebar mount, design matching ideally well with Edelux. Adjustable around 3 axis.
Aluminium milled, for handlebars up to 31.8 mm
black anodized
75541
RRP in D

35,00 €
Bracket milled short
Alu 7075 T6, incl. bolts,
37 x 40 mm (LxH)
black anodized
75620
RRP in D

25,00 €
Bracket milled long
Alu 7075 T6, incl. bolts,
45 x 52 mm (LxH)
black anodized
75630
RRP in D

27,00 €
Edelux DC 170
Edelux DC 170 is approved for all common e-bike drive systems (up to 25 km/h) ranging from 5 to 15 Volt. 170 Lux brightness as well as a wide and homogeneous light field make good visibility possible in the near field as well as visibility to far distance.
6 Watt  |  170 Lux
Water- and dust protection due to a membrane ventilating system
New connecting technology: With cutting clamp it's easy to connect the cable without any tools.
Large-area lightfield with "IQ-TEC" mirror from Busch & Müller
LED cooling with copper heatsink
w/o cable
630010
black anodized
RRP in D

199,00 €
w/o cable
630080
uncoated
RRP in D

199,00 €
w/o cable
630020
red anodized
RRP in D

209,00 €
w/o cable
630040
blue anodized
RRP in D

209,00 €
w/o cable

NEW

630060
orange anodized
RRP in D

209,00 €
w/o cable

NEW

630070
light green anodized
RRP in D

209,00 €
For 5 to 15 volts direct current (DC),
not compatible with Neodrives V2 or V5 Batteries
Power consumption: 6 watt
Brightness: 170 Lux
Weight: 70 g
Conforms with German legal regulations
Edelux II
140 cm cable: connectors separately enclosed, incl. Edelux bracket (75520)
60 cm cable: connectors fitted, for fork mount, incl. Edelux bracket (75520)
36 cm cable: connectors fitted, for Brompton folding bike, with Bracket for Brompton (75504)
140 cm cable
681406
60 cm cable
680605
36 cm cable
680305
polished
RRP in D

169,00 €
140 cm cable
681496
60 cm cable
680695
36 cm cable
680395
silver anodized
RRP in D

169,00 €
140 cm cable
681416
60 cm cable
680615
36 cm cable
680315
black anodized
RRP in D

169,00 €
140 cm cable
681426
60 cm cable
680625
36 cm cable
680325
red anodized
RRP in D

179,00 €
140 cm cable
681446
60 cm cable
680645
36 cm cable
680345
blue anodized
RRP in D

179,00 €
140 cm cable
681466
36 cm cable
680365
orange anodized
RRP in D

179,00 €
140 cm cable
681436
36 cm cable
680335
gold anodized
RRP in D

179,00 €
140 cm cable
681476
light green anodized
RRP in D

179,00 €
140 cm cable
681456
36 cm cable
680355
dark green anodized
RRP in D

179,00 €
140 cm cable

NEW

681386
RRP in D

179,00 €
For 6 Volt alternating current (hub dynamos)
Brightness: 100 Lux
Conforms with German legal regulations / ISO 6742
Weight (w/o cable): 75 g
Delivery includes: Bracket and Reflector (75760)
SON Rear Light for rack tube mount
Mounts on a tube with Ø 10 mm
Smart mounting option for minimalist FAHRER design rack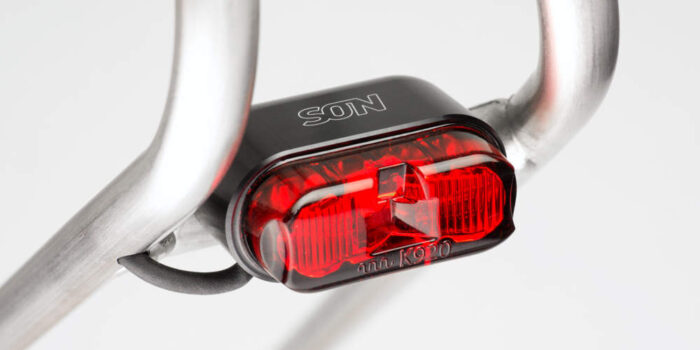 69662
black anodized / red lens
RRP in D

79,00 €
NEW

69682
silver anodized / red lens
RRP in D

79,00 €
SON Coaxial Cable 190 cm (fixed inside the housing, bare ends, connectors separately enclosed)
Conforms with German legal regulations / ISO 6742
SON 28 12 disc center lock
for 12 mm thru axle
for rotors with Shimano center-lock-mounting
for lots of light even at low riding speed
also for various charging tasks using a charger
24 hole
402410
28 hole
402810
32 hole
403210
36 hole
403610
black anodized
RRP in D

319,00 €
32 hole
403290
silver anodized
RRP in D

319,00 €
28 hole
402820
32 hole
403220
36 hole
403620
red anodized
RRP in D

329,00 €
28 hole

NEW

402840
blue anodized
RRP in D

329,00 €
Weight: 420 g
6 Volt / 3 Watts conforming to German legal regulations